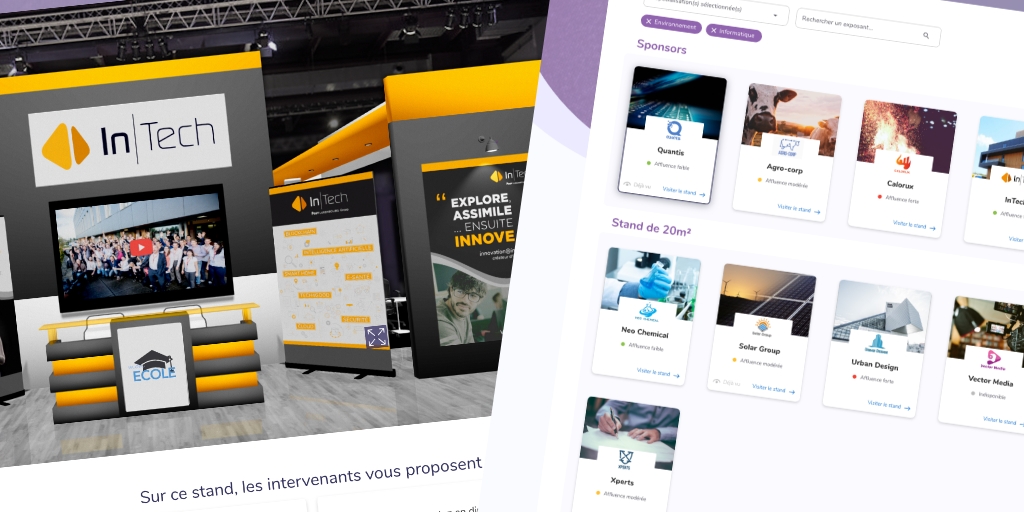 En-Virtuel, the Online Events Solution, Born from COVID
The health crisis has led many organisations to move to remote exchanges. InTech has heard about the problems faced by its partners in the education sector during this period and had the idea of developing a product to help them ensure the continuity of their corporate relationship events.
en-virtuel, the all-in-one solution for 100% virtual, physical or hybrid events, was created in a few months by a team of experienced and passionate engineers. As from the start of the 2020 academic year, the first student-company meetings and virtual recruitment fairs were held in Luxembourg and throughout France. Today, the platform has organised more than 130 digital events and has exceeded 100,000 connected users.
An Intuitive, Dynamic and Flexible Solution
en-virtuel has been designed to create and manage an event from A to Z in a simple way:
Organisers can invite exhibitors, plan live or pre-recorded conferences and organise the logistics of the event remotely,
Exhibitors can customise their stand by providing multimedia content or manage individual or small group meetings,
Participants can visit virtual stands, attend conferences or participate in collective discussions on the stands or register in queues for individual interviews.
An Innovative, Cutting-Edge Platform
InTech's experts deployed their digital skills to address technological challenges that make the tool a real asset:
Implementation of an elastic and resilient architecture in the cloud, allowing dynamic allocation of resources according to the workload,
User-friendly and intuitive interface making the customer and user experience simple and pleasant.
en-virtuel is a scalable and adaptable solution for organising digital or hybrid events for companies and organisations in all sectors, both public and private.
They trust us, they have already used the platform and they say so: Moovijob, CDEFI, …

For more information on the en-virtuel solution, click HERE